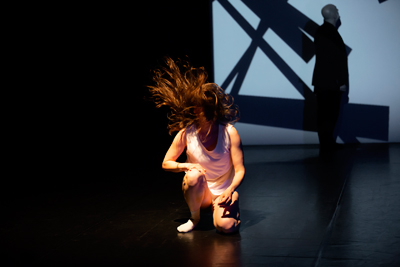 live stream premiere
29th of April, 2021, Theaterwerkstatt Hannover
artistic direction / choreography
Mónica García Vicente
dancers
Simone Deriu, Bettina Paletta, Loris Zambon
dramaturgy
Christina Rohwetter
costumes
Trixxi Theis
light design
Ruben Schöls, Clemens Römeth
STAGE ELEMENTS, COLOR CONCEPT
Gerhard Merkin
VIDEOINSTALLATION
Boubker Moussalli
PRODUCTION MANAGEMENT
Sophie Thuma
TECHNICAL DIRECTION
Christoph Lubrich
DIRECTION TEAM STREAMING
Leon Meier, Louis Schneider
CAMERA TEAM STREAMING
Nico Deppe, Paula Lehrke
photography
Dorit Schulze
sponsored by
LANDESHAUPTSTADT HANNOVER KULTURBÜRO, NIEDERSÄCHSISCHES MINISTERIUM FÜR WISSENSCHAFT UND KULTUR, STIFTUNG NIEDERSACHSEN, STIFTUNG EDELHOF RICKLINGEN V.J.V. OSTEN
Being restricted – and yet free. Immobile in body – flexible in mind. The artists Jean-Dominique Bauby (writer), Ezio Bosso (composer) and Frida Kahlo (painter) were each physically limited in one way or another and still managed to break out of their immobility with the help of art. With their biographies, their art, and their strength, they provide the inspiration and the starting point for this dance performance.
"Immobilità" shows a collage of impressions and images on the subject of physical limitation and the mobilizing potential of art. The dancers act in a black and white world of thoughts from which they cannot break out. The colours of the video installation, which was developed with the help of aleatoric techniques, offer a colourful ray of hope. An interplay of emotions of inner turmoil and tension is created. The illustration of heaviness and lightness of our imagination.
The uncertain time of the pandemic has also influenced the creation process of the piece. It has made clear, we can feel immobility on an individual, social, on a physical or spiritual level. And yet, we can find joy in life in times of restriction and stasis. The certainty remains, no matter how constricted we feel, our creativity makes it possible for us to be mobile.
"
IMMOBILITÀ is a collage inspired by the biographies, vitality, strength and works of the artists frida kahlo, ezio bosso and jean-dominique bauby. i am fascinated by the ability to move and travel that these three artists had through their art without limits and restrictions, in contrast to their immobile bodies. in the word immobilità we find move and no-move. i choose these topics because i want it to speak about a duality from flow and restriction, and where do they come from? from our body or from our mind. we are living in a historical moment where our mobility is restricted but our creativity gives us the possibility to continuously be in flow.
______
Mónica García Vicente